Since regulator failure can do damage to quite a few components, I've fitted a small LED voltmeter to monitor the voltage on the battery terminals while the bike is running. This should give plenty of advance warning of regulator failure, to minimise the chance of sensitive electronic components getting damaged.
My bike doesn't actually have a battery - it has a 30,000uF 40V capacitor bank instead. Therefore, the voltmeter only works while the engine is running (and for about 5 seconds after the engine stops, as the capacitors discharge).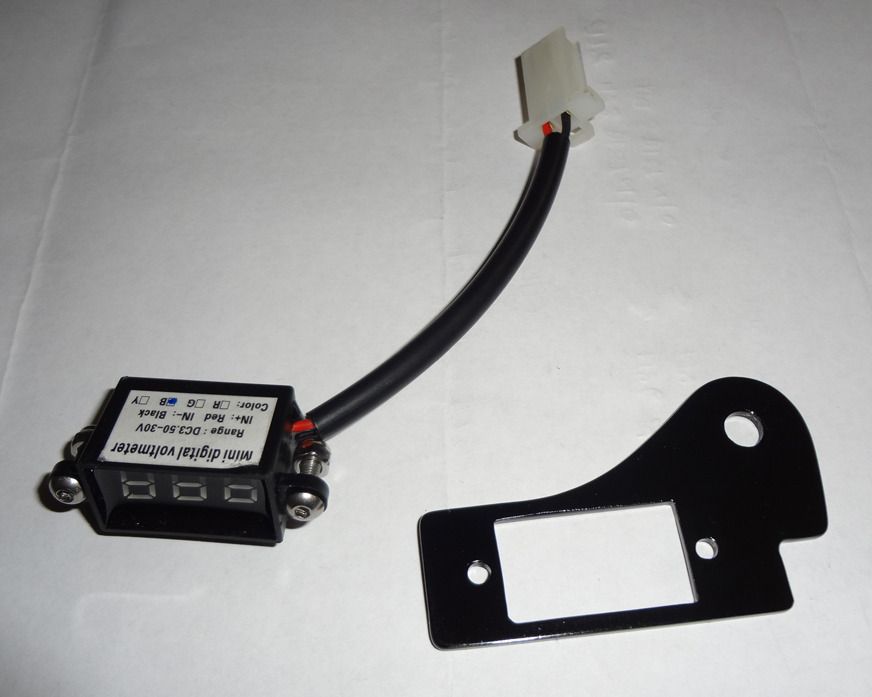 This is the voltmeter unit, with a mounting bracket I made from 2mm aluminium plate. The bracket attaches to the left-hand M6 screw which secures the instrument panel to the fairing stay. I added the PVC sleeve and plastic connector to the voltmeter unit.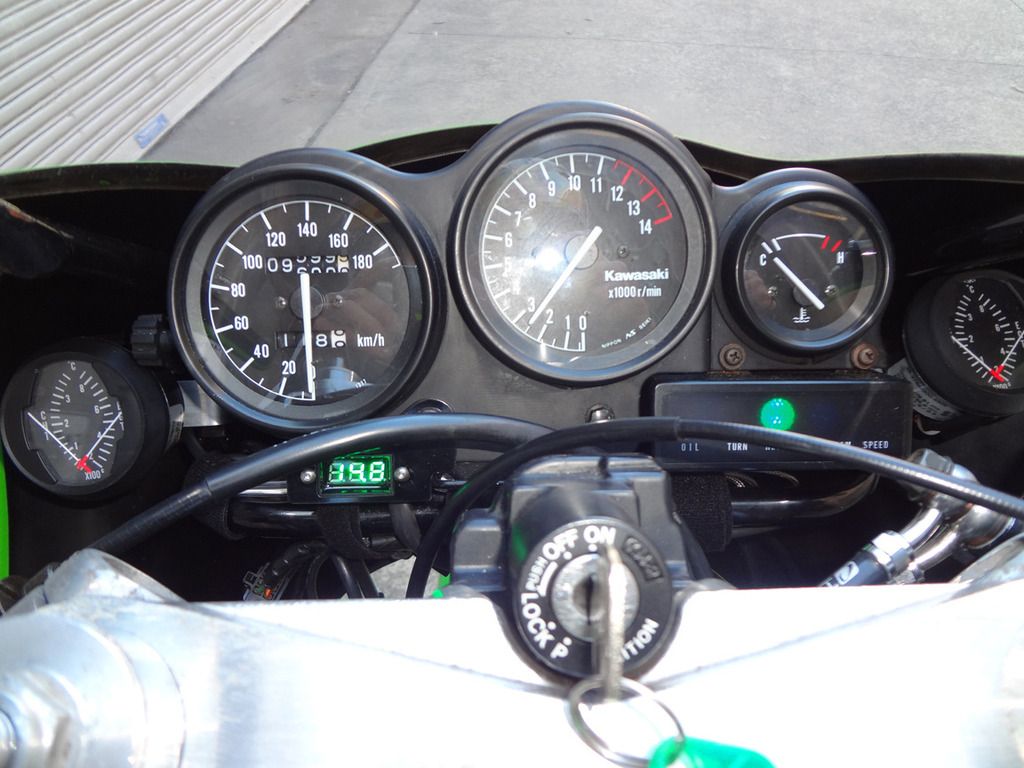 This is the voltmeter in position (below the speedo) with the engine running. The digits do not appear very well defined in the photo, but this is due to the flash highlighting all of the LED segments. There is plenty of contrast between the lit and unlit segments in practice.
I am a little paranoid about regulator failure, so I have a new Electrex RR26 unit, connected to an extension lead, mounted in the place usually occupied by the battery. If that unit should fail, I have the original regulator (which still works) mounted in the usual place above the HT coil, which can be brought into use by unplugging the extension lead and plugging the wiring loom connector back into the original regulator (takes only a minute after lifting the front of the fuel tank).
For anyone interested, here is the Ebay listing for the voltmeter I bought:
http://www.ebay.com.au/itm/LearCNC-Volt ... 2edf332b33
There are other sellers offering practically identical items, as well as still others offering similar units (although many of the alternatives are much larger and have open backs - obviously not waterproof and not as easy to integrate into the KR-1/1S instrument panel).
Regards,
James